Translating your insights into results!
We are Impero, a mobile app development company that is globally recognised, chosen by businesses to attract new customers and ultimately build businesses, brands! Our goal is to develop apps that stand the test of time and bring your business in front of more users.
To make that happen, our products are developed with the best of technologies & for the best of platforms! Our expertise lies across Native to Hybrid mobile app development.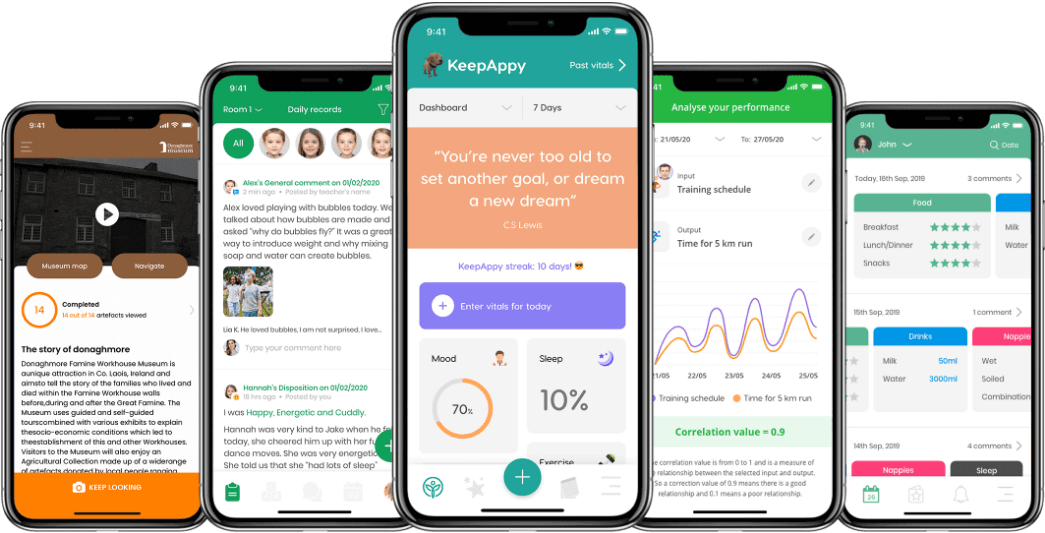 Screen grabs from our live apps!
Platforms
We take care of the latest technologies so that you can focus on the most important, your business.
With Impero, you have a full stacked powerful & functional solution for any platform.
iOS - Apple
We are a top iOS development company, having successfully delivered 120+ iOS apps with impeccable designs loved & downloaded by millions. Our maestro iOS developers leave no stone unturned in creating that perfect iOS app along with the right blend of experience & technology.
The chief tech stack that powers your app:
• Objective C
• Swift
• X-Code

Our iOS development process:
• Determining your app idea.
• Designing the app Interface.
• Developing a robust & compelling app.
• Testing the entire app.
• Launching on the Apple Store
• Post-launch maintenance service

This doesn't end here - To help you secure your presence on every iOS platform, we at Impero develop iOS apps across Apple platforms:
• Apple Watch OS
• Mac OS
• iPhone OS
• tvOS

Android
From completing the whole development cycle of the app to initiating its launch on Google Play Store, we assist startups & businesses in incorporating their ideas and insights into reality. Our skill in developing Android apps has led our 150+ Android apps to garner $21M investments.
Our key tech stack:
• Java
• Kotlin

Our Android development process:
• Validating your unique idea
• UI/UX Designing
• Defining modules
• Developing a powerful solution
• Assuring the quality
• Play store submission
• Post-launch maintenance services

Technology & expertise combine well. Our 25+ highly skilled Android developers make Android development across all platforms an easy & efficient process & that's why - We don't restrain from exploring different Android platforms:
• Android TV
• Android Tablet
• Android Wearables
• Android Phone

Flutter
Released by Google in 2017, Flutter is all the rage in the millennial era. Ask us why? It helps you develop an app for multiple platforms in one single coding. Supported by over 1000+ Github developers, the Flutter community is bound to escalate the growing demand.
The latest technology in the field of app development, Flutter, offers many benefits & one of them is less app development time! Why should Startups choose Flutter? Single coding works cross platforms, builds applications in less time, one fixed cost! Flutter renders the advantage to startups owners as it allows you to invest in an app that can work for all the platforms in a low-cost model!
Our deployed team of Flutter developers can help you usher in this most recent technology with a 100% beautiful interface and delightful app.
React native
Are you looking for a reduction in development time, energy & money? - React Native by Facebook can be the perfect app solution. Favoured by 98% of app developers, React Native can deliver a native app that can work across many platforms.
Facebook created React Native in 2015, and since then, React Native has exceeded expectations for 1M+ app owners! Instagram, a popular photo-sharing app, is developed based on React Native technology. Assuring high performance in all the platforms, React Native is what you can genuinely opt for if you're an entrepreneur.
A cost-effective solution, React native can empower your business with a delightful user experience with a "single coding and single pricing" system. Besides, React Native provides a wide array of great UI/UX & that can be integrated into your app by us along with your unique idea! A combination of beauties & minds, right?
Some industries that we've mastery in!
We just don't talk; we have proved it through all our projects. We are proud to have worked consistently with significant industries all over the world. Here are some of the industries we have mastery in.

Education

Construction

Banking

Work field management

Travel

Cleanliness

Real Estate

Restaurant

Social Networking

Sports

Wellness

Transport
Frequently asked Questions
I have an idea but don't know where to start.
Then you have indeed come to the right place. Well, chill, it's absolutely okay if you're unaware. You first gotta decide who is your target audience. Secondly, create a clear Scope of Work for your idea. Explain it to your prospective mobile app development company and choose your tech partner based on their understanding of your vision as a startup.
How will you keep my idea secured once we discuss?
We ensure that our client feels the safest when it comes to their intellectual property. According to our policy, we have a strict agreement with our developer & the foremost thing we do before the client shares the idea is to sign an NDA. In addition, once app development is accomplished, we deliver all the code assets & IP data to you.
Will you help in launching the mobile app?
Yes, of course. When we commence a project, it becomes our full duty to make it work till the end. In fact, launching an app is a part of our service offering.
What all services will you provide in my mobile app development project?
Yes, we provide a total holistic 360° turnkey solution that includes everything the project requires.
Which platform for mobile app development will be the best?
With everyone using a smartphone, it's important to decide accurately. We study the concept and your niche audience, and accordingly, we determine the most suitable app development platform.
My app will be developed by which development approach?
We are quite flexible in the development approach, and we follow both - Waterfall & Agile methodologies.
What if I choose the Waterfall approach?
Waterfall is a clear, concise & precise way to receive your project. In the Waterfall approach, the outputs are in sequential order. For example: After the designs are completed then only development would be undertaken.
Choosing the Waterfall approach helps the entire team to work on a set end goal. (To sum up, it's like a relay race)
What if I choose the Agile approach?
Choosing the Agile approach involves breaking up your app development into smaller sprints. Agile methodology is mainly based on the 'build fast & test fast' strategy. You can go with the Agile approach if you want an iterative process.
Do you provide dedicated development resources?
Yes, we provide dedicated resources for a fixed period at a fixed rate. Besides, we also offer augmented team services where you can cherry-pick your development team. Also, we have a cost-effective policy that includes development costs based on project requirements.
Will your development server be able to support the growing traffic?
Yes, we use state of the art Elastic server Technology that helps in adjusting the server as per the growing traffic. Keeping an eye on servers in a complimentary service that we offer.
Will I get any assistance after the product launch?
Yeah, our offerings are in-depth, which includes a 3 months free maintenance period. You may contact us for further details.
Please feel free to ask any query.
We know, you have an excellent idea. Let's have an awesome conversation & get your idea live sooner!
"We chose to work with Impero, as they really understood our vision as a social enterprise from the very beginning. They really have gone from strength to strength with the range of services they have been able to provide for us. We know they always go the extra mile, and we really do have a lot of trust in them. "

Lara Páirceir & Laura Brennan
Co-founders, EthiCart