Hire Flutter Developers to Build Cross-Platform Apps
Flutter is a cross-platform software development kit for developing applications for all platforms - iOS, Windows, Android, and Linux. Launched by Google in 2017, Flutter has a huge 'Flutter developers community', making it better with each passing day. Apps like Gpay, Alibaba, and Google assistant are beautifully created with Flutter. It offers mobile app development benefits, like single-coding processes and is recognised as the most popular cross-platform framework.
Imperoit is the best choice to hire reliable Flutter developers. Being a renowned Flutter app development company, Imperio leverage the many benefits; Flutter offers to create robust, natively compiled apps that can run on Android as well as iOS. Cross-platform development is best suited for startups & businesses looking to reach a larger audience. Based on your professional requirements, you can choose hiring our front-end flutter experts and empower your business with rapid cross-platform mobile app development.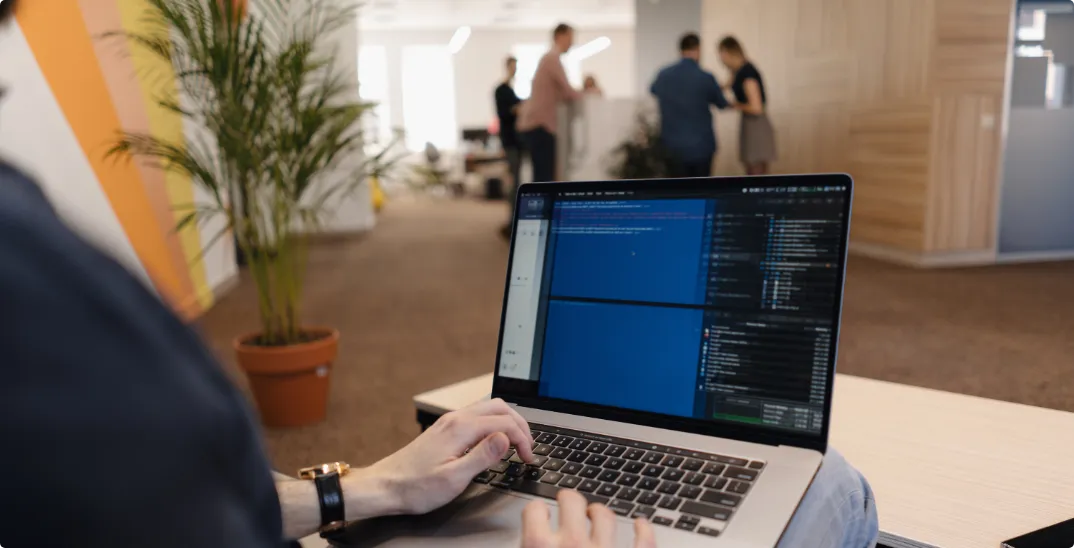 Expertise of our Flutter developers
We help businesses connect with a large Android and iOS user base and achieve their long-term vision. Hire world class Flutter developers who are maestros in creating intuitive and scalable mobile apps. Our highly skilled Flutter app developers' expertise includes iOS and Android rich, high-performing Flutter development services:
Flutter consulting services
Flutter app development
Existing Flutter app migration
Flutter DART app development
Flutter for web development
Post-launch support & maintenance services
Custom Flutter app development
3 steps Easy Process to Hire Flutter Developers from Impero IT Services
Avail the benefits of our talented 5+ years of experienced Flutter developers, who love to go the extra mile in developing well-planned and impressive mobile app development solutions that can be deployed on both Android and iOS. Hire best Flutter developers and quick start your development with a simple, easy process. Get a startup app that will speak volumes about your vision.
Connect with us!
Connect with us and tell us about your cross-platform app idea. We will ensure that you get connected with one of our best Flutter developers, that is the perfect match for your project.
P.S - We sign an NDA before proceeding with the development.
Give a task, and challenge their capabilities.
Allocate a hi-end task to our Flutter talent, test them out, and get assured of our veteran Flutter developers' expertise.
Make the Flutter pro a part of your team.
Onboard your remote Flutter programmer that will be an asset to your team. Together, come out stronger with a natively compiled Flutter app.
Hire Flutter Developers with Flexible Engagement Models
Connect with the top 1% Flutter developers by easily onboarding professional developers. Choose from varied, flexible models and hire in the most cost-efficient way. We won't merely deliver you a top-notch cross-platform app, but we incline to give you the best app development projects by partnering with us.
Fixed cost model
If your scope of work is fixed, don't look any further. Choose Imperoit's fixed cost model and hire top-class Flutter app developers at a fixed budget-friendly cost, regardless of how complex/big & the time duration it will take to bring your app idea to life. If you don't have a fixed scope of work, frame it today and get started with your cross-platform app development.
Hourly rate model
Want to test your app idea in the market idea first and then take the investment plunge? Go with the hourly rate model and make your hybrid app plans absolutely light on your pocket. Hire offshore Flutter developers at an hourly rate and only pay for the hours; our skilled developer has worked on your vision.
Scrum team model
If you are stuck at a challenging stage in your Flutter app development journey, don't worry; sit back and select the Scrum team model. Hire experts flutter app developer and get them on board to get out of that phase faster and launch your app more quickly.
Dedicated hiring model
Considering having a pro developer that only & only work on getting your dream to become a reality. Hire our talented developers and set the ball rolling with highly skilled Flutter developer experts that will only work on your project from start to end.
ImperoIT: The Best Choice for Hiring Flutter Developers
We are one of the well-recognised Flutter app development companies that are bespoke to your app requirements. At Imperoit, we make all efforts to utilise the potential of the Flutter framework and create next-gen Flutter apps. Connect with best Flutter developers at Imperoit and hire Flutter app developers who strive to own the outcome for you, not the output. Here are the reasons to hire our cross-platform app developer and own a happy outcome:
Senior Flutter developer
Connect with best Flutter developers profile
Budget-friendly engaging and hiring models
25+ team of talented Flutter developers for hire
Agile and Waterfall approach
Dedicated tech experts
Transparent procedures
Post-launch support & maintenance
Timeline and result-oriented delivery
Frequently Asked Questions
What is the cost of hiring Flutter developers?
Then you have indeed come to the right place. Well, chill, it's absolutely okay if you're unaware. You first gotta decide who is your target audience. Secondly, create a clear Scope of Work for your idea. Explain it to your prospective mobile app development company and choose your tech partner based on their understanding of your vision as a startup.
Do you provide Flutter consulting services?
Yes, we have Flutter consultants who can guide you and help you execute the best app development approaches. You can always contact us to analyse your app requirements and create a custom plan just for your app needs.
I certainly want my idea to be safe. Will your developers keep my idea safe?
Without any doubt. The first thing we do as soon as you come to us with your idea is to sign a Non-disclosure agreement. (NDA) At Impero, keeping your idea secured is our first priority. Moreover, we have a strict contract with our software engineers regarding a client's unique idea.
I have a large-scale Flutter app concept. Do you allow hiring a dedicated Flutter team?
Yes definitely. You can hire a dedicated development team of talented Flutter app developers from Imperoit who will work on your project from start to end.
Do you have flexible hiring models to hire top Flutter developers?
Yes, of course. Our hiring models are absolutely flexible. Clients are the centre of our app development services; we ensure that our clients make the most of our convenient, engaging models. You can choose to hire from our 4 engaging models, including the Scrum team model, the Dedicated hiring model, the Hourly rate model, and the Fixed cost model. You can select any of these models at your convenience and hire developers for hourly/monthly/yearly periods.
Which is better, Flutter or React Native?
We believe that both Flutter and React Native have their own benefits. Choosing cross-platform development for your app more often depends upon what kind of app requirements you have. If you have hi-end widget-related requirements, it's best advisable to go with Google backed cross-platform tech.
Tell us about your project!
We know, you have an excellent idea. Let's have an awesome conversation & get your idea live sooner!
"Impero was instrumental in helping us bring our vision to life. They offered valuable input from start to finish and they were timely. We are grateful to have established a relationship with them & we're sure that will definitely continue. So I highly recommend them for any of your app development needs."

Ellice Zoe
Founder of Divine you app