Hire Flutter Developers to Build Cross-Platform Apps
Flutter is a cross-platform software development kit for developing applications for all platforms - iOS, Windows, Android, and Linux. Launched by Google in 2017, Flutter has a huge 'Flutter developers community', making it better with each passing day. Apps like Gpay, Alibaba, and Google assistant are beautifully created with Flutter. It offers mobile app development benefits, like single-coding processes, and is recognised as the most popular cross-platform framework.
Impero IT is the best choice to hire reliable Flutter developers. Being a renowned Flutter app development company, Impero leverage the many benefits; Flutter offers to create robust, natively compiled apps that can run on Android as well as iOS. Cross-platform development is best suited for startups & businesses looking to reach a larger audience. Based on your professional requirements, you can choose hiring our front-end Flutter experts and empower your business with rapid cross-platform mobile app development.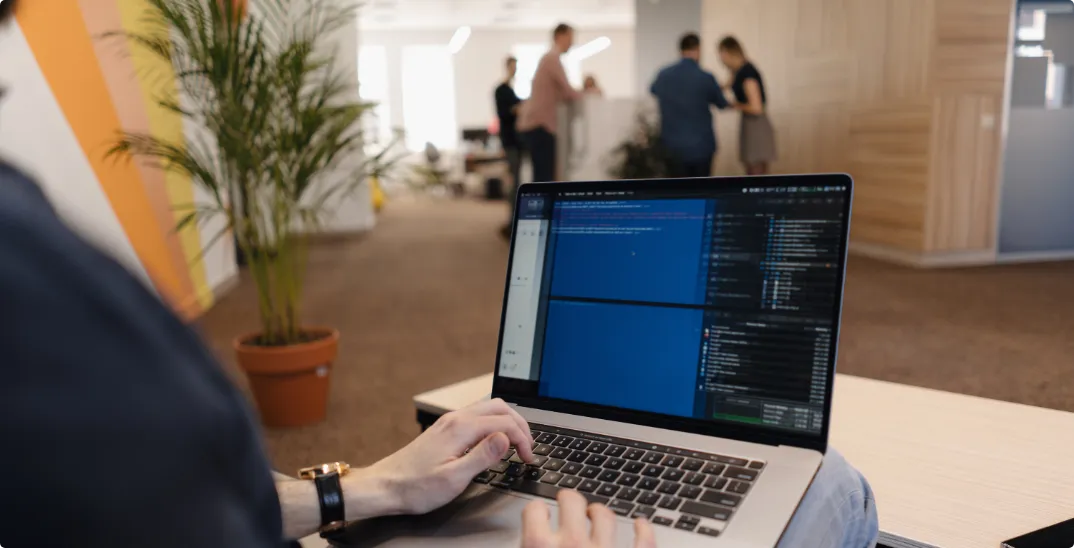 The many advantages of going for a Flutter app!
Easy Coding
With robust & scalable features like hot reload, Flutter has emerged as the developer's absolute favourite, ensuring maximum conversions.
Create your Widget
Modify or build your own widget effortlessly with an extensive widget library. Enhance the impact of your brand and engage your target user base.
Single Code Based
With single code base, Flutter app developers do not need to write multiple codes for different platforms. Leverage benefits of Flutter app development on both Android as well as iOS
Faster Testing
Again, considering the single codebase feature, testing gets done in a shorter time duration with a lot of ease. Eventually, this boosts the overall development process making it flawless.
Faster Experience for Users
Being rich in new and efficient list of features, Flutter allows the developers to deliver much smoother experiences. Which in turn, results in generating more leads and exposure.
Dart
Flutter app development framework works on Dart, an incredible language to achieve the optimum app performance
The expertise of our Flutter developers
We help businesses connect with a large Android and iOS user base and achieve their long-term vision. Hire world-class Flutter developers from the most trusted Flutter app development company who are maestros in creating intuitive and scalable Flutter apps. Our highly skilled Flutter developers' expertise includes iOS and Android-rich, high-performing Flutter development services
Flutter consulting services
Have a good discussion with the team of our Flutter experts to discover how to make the best use of Flutter to achieve your business goals. With that said, we offer top-notch Flutter consultation services to our clients.
Flutter app development
We deliver efficient cross-platform applications to our clients to ensure a great user experience. Promoting thorough communication, our Flutter app development company creates effective apps, strictly catering to the project requirements.
Existing Flutter app migration
We do not limit our Flutter app development services and help in the migration of your iOS or Android application. We work with the latest Flutter version to migrate your existing app from another framework effectively.
Flutter DART app development
Given the beneficiary features of the Dart programming language, we offer our expert services within Flutter dart app development. Leverage the benefits of these feature-rich languages with our experienced and skilled Dart programmer for quality app development.
Flutter for web development
With no doubt in the excellence of Flutter as a development framework, we provide services to develop web content with Flutter as per industry standards. Considering that web apps are still in demand for a number of users, Flutter web app plays a significant role in maximizing profitability.
Post-launch support & maintenance services
We extend our Flutter app development services beyond development. Our team makes sure to eradicate bugs or errors to maintain consistency in performance.
Custom Flutter app development
Our dedicated team assures the client that Flutters app development elements are customizable for the clients to choose accordingly. We at Impero make sure that your brand can show what it perceives.
3 steps Easy Process to Hire Flutter Developers from Impero IT Services
Avail the benefits of our talented 5+ years of experienced Flutter developers, who love to go the extra mile in developing well-planned and impressive mobile app development solutions that can be deployed on both Android and iOS. Hire the best Flutter app development team in UK and quick start your development with a simple, easy process. Get a startup app that will speak volumes about your vision.
Connect with us!
Connect with us and tell us about your cross-platform Flutter app idea. We will ensure that you get connected with one of our best Flutter developers, that is the perfect match for your project.
Give a task, and challenge their capabilities.
Allocate a hi-end task to our Flutter talent, test them out, and get assured of our veteran Flutter developers' expertise.
Make the Flutter pro a part of your team.
Onboard your remote Flutter programmer, that will be an asset to your team. Together, come out stronger with a natively compiled Flutter app.
P.S. - We sign an NDA before proceeding with the development, keeping your idea secured throughout! :)
Hire Flutter Developers with Flexible Engagement Models
Connect with the top 1% Flutter developers in UK by easily onboarding professional developers. Choose from varied, flexible models and hire in the most cost-efficient way. We won't merely deliver you a top-notch cross-platform app, but we incline to give you the best app development projects by partnering with us.
Fixed cost model
If your scope of work is fixed, don't look any further. Choose Impero IT's fixed cost model and hire top-class Flutter app developers at a fixed budget-friendly cost, regardless of how complex/big & the time duration it will take to bring your app idea to life. If you don't have a fixed scope of work, frame it today and get started with your cross-platform app development.
Hourly rate model
Want to test your app idea in the market idea first and then take the investment plunge? Go with the hourly rate model and make your hybrid app plans absolutely light on your pocket. Hire offshore Flutter developers at an hourly rate and only pay for the hours; our skilled developer has worked on your vision.
Staff augmentation model
If you are stuck at a challenging stage in your Flutter app development journey, don't worry; sit back and select the Staff augmentation model. Hire expert Flutter app developer and get them on board to get out of that phase faster and launch your app more quickly.
Dedicated hiring model
Considering having a pro developer that only & only work on getting your dream to become a reality. Hire our talented developers and set the ball rolling with highly skilled Flutter developer experts that will only work on your project from start to end.
Flutter app development process
Idea Analysis
Our expert team start by carefully analysing the idea keeping the project requirements in mind. Once we have a clear vision, we plan the path accordingly to reach the ultimate goal.
Design
The creative design team here to address different aspects of the Flutter app design phase, from content to functionality. This way, we make sure to give your basic Flutter app a design that conveys the idea in the best user-friendly way possible.
Development
Using the best technologies and tools, our skilled developers build Flutter apps with scalable, robust and clean codes to signify reliability.
Testing
Prior to final development stages, we perform rigorous testing to ensure that the Flutter application has passed the quality check with authenticity.
Deployment
Lastly, after ensuring that every development phase has been successfully completed, we deploy beautiful and scalable Flutter solutions, turning the ideas into profit.

Finance and Banking
Power up the digital transactions and related process with the highly secure and robust technologies. Flutter web app could be a great way towards the industry's advancements.

Healthcare
Our highly skilled and dedicated Flutter app developers ensure delivering simplified solutions to handle the complex tasks of healthcare industry with precision.

Education
Introduce new and innovative ways of learning together with technology. With emerging elearning solutions, create Flutter apps that embraces growth throughout the industry.

E-commerce
Provide the customers with amazing shopping experience. We have successfully developed and delivered eCommerce solutions according the client's requirements.

Media & Entertainment
Bring power to your industry with our digital Fluuter apps solutions, and catalyze the complete media and entertainment services.
Impero IT: The Best Choice for Hiring Flutter Developers
We are one of the well-recognized Flutter app development companies that are bespoke to your app requirements. At Impero IT, we make all efforts to utilize the potential of the Flutter framework and create next-gen Flutter apps. Connect with best Flutter developers at Impero IT and hire Flutter app developers who strive to own the outcome for you, not the output. Here are the reasons to hire our cross-platform app developer and own a happy outcome:
Senior Flutter developers
Connect with best Flutter developers profile
Budget-friendly engaging and hiring models
Agile and Waterfall approach
25+ team of talented Flutter developers for hire
Dedicated tech experts
Transparent procedures
Post-launch support & maintenance
Timeline and result-oriented delivery
Is Flutter good for app development?
Flutter has emerged as one of the most preferred solutions for Android and iOS app development considering its crucial benefits. Since flutter is a powerful app development framework, developers can build highly scalable and robust applications within the determined timeline.
Will you publish Flutter app to app store?
Yes, our Flutter app development services include everything from analysis to final deployment and other post-deployment services.
Which is better, Flutter or React Native?
We believe that both Flutter and React Native have their own benefits. Choosing cross-platform development for your app more often depends upon what kind of app requirements you have. If you have hi-end widget-related requirements, it's best a
What apps are made with Flutter?
From basic Flutter apps, to advance feature rich applications such as AI and ML powered, streaming apps, etc, we build Flutter apps to provide your brand with the highest benefits.
How are apps made with Flutter unique and advantageous?
Flutter enables the development of a native app with a single codebase. All in all, it is ideal for high-performance, flexible UI, and native performance.
How much does flutter app development cost?
In general, flutter app development costs between £15k- 50k+, depending greatly on various development factors. These include a number of features, complexity, delivery timeline, location, development platform, and more.
What is the cost of hiring Flutter developers?
Then you have indeed come to the right place. Well, chill, it's absolutely okay if you're unaware. You first gotta decide who is your target audience. Secondly, create a clear Scope of Work for your idea. Explain it to your prospective mobile app development company and choose your tech partner based on their understanding of your vision as a startup.
Do you provide Flutter consulting services?
Yes, we have Flutter consultants who can guide you and help you execute the best app development approaches. You can always contact us to analyse your app requirements and create a custom plan just for your app needs.
I certainly want my idea to be safe. Will your developers keep my idea safe?
Without any doubt. The first thing we do as soon as you come to us with your idea is to sign a Non-disclosure agreement. (NDA) At Impero, keeping your idea secured is our first priority. Moreover, we have a strict contract with our software engineers regarding a client's unique idea.
I have a large-scale Flutter app concept. Do you allow hiring a dedicated Flutter team?
Yes definitely. You can hire a dedicated development team of talented Flutter app developers from Imperoit who will work on your project from start to end.
Do you have flexible hiring models to hire top Flutter developers?
Yes, of course. Our hiring models are absolutely flexible. Clients are the centre of our app development services; we ensure that our clients make the most of our convenient, engaging models. You can choose to hire from our 4 engaging models, including the Scrum team model, the Dedicated hiring model, the Hourly rate model, and the Fixed cost model. You can select any of these models at your convenience and hire developers for hourly/monthly/yearly periods.
Tell us about your project!
We know, you have an excellent idea. Let's have an awesome conversation & get your idea live sooner!
"Impero was instrumental in helping us bring our vision to life. They offered valuable input from start to finish and they were timely. We are grateful to have established a relationship with them & we're sure that will definitely continue. So I highly recommend them for any of your app development needs."

Ellice Zoe
Founder of Divine you app