What makes iOS app development a preferred choice for enterprises & firms?
Apple's ecosystem is one of the most reputable since times in-memorial. It's known for giving the world some of the nicest breakthroughs in the mobile world. Be it for its sleek design or unparalleled experience in all aspects, Apple is known for innovation in everything.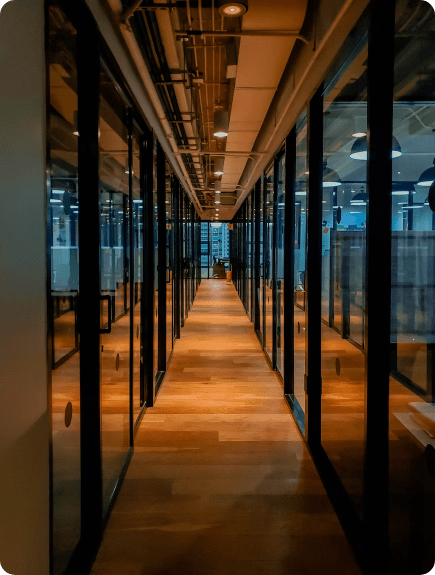 Choosing iOS app development means giving your customers a superior user experience with an elegant interface, robust security, and round-the-clock support & services. Products built with the iOS system are recognised as magnificent, highly-secured, and a powerhouse of speed & efficiency. That's not it; iOS app development can be the best bet for enterprises & firms if they want an established & tech-savvy customer base.
Top-notch security
Feature-rich functionalities
Higher ROIs generating
Magnificent UI
Outstanding user experience
Fast & high-performing
Future-forward innovation
iOS app development services
Impero IT brings you the best of development & design! Empower your business growth with top-class iOS app development services. We help you cater to your large audience through our wide array of best-in-class iOS app development. Choose fully engineered products with complete development services from start to end.
iOS app development
We develop scalable iOS apps for businesses & firms. Blending in expertise, experience, and extraordinary skills, we specialised in iOS app development that proves to be future-forward for your business. At Impero, we aim to create feature & functions-rich iOS apps that help you stand apart from the competition.
Besides, we are also well-recognised for an iOS app that is tailor-made for your business needs that you can capitalise on.
Migration to iOS
Have a hybrid app for your business and want to create a natively compiled iOS app now? We can help you migrate your product to iOS and make a move to iOS effortlessly.
Our app developers iOS can help you build a next-gen quality-tested app and ensure that your users get a hands-on native experience, beautifully designed & specially made for iOS.
iOS app consultation
We strongly focus on the client's success. And to create an award-winning, business-focused app, it's essential that you plan ahead of time and be well aware of what will go best with your app idea. We offer iOS app consultation to our clients and ensure that they map out a journey that works best for your business.
We have special business analysts who can give a competitive market analysis of your idea & strategise your iOS application growth, which is totally result-oriented & help you reach new heights.
iOS after-launch support & maintenance
We not only develop & launch your app on the Apple store, but we certainly take care of your app even after it is deployed & doing well. We offer 3 months of after-launch support & maintenance, covering app updates, bug fixes, queries, etc.
Our iOS app developer for hire ensures that you effortlessly manage your business with a fuss-free iOS app that simplifies your business operations extensively.
watchOS
tvOS
iPhoneOS
MacOS
iOS app development process that backs your app
Our iOS app development process is an amalgamation of leveraging the skills of iOS developer and making the best use of Apple's ecosystem. This power pack combo, along with our well-defined process, works as a complete package to create iOS apps that are future-forward & receive global clientele recognition.
iOS tech stack
Our iOS apps developers are recognised as the best for iOS app development. Not only has their talent helped us be the best in town, but the tech stack that backs us has a significant role to play.
It's the power of the tech stack we use, combined with the expertise of our app developer iOS makes us an established iOS app development agency. Take a look at the tech stack we use for developing iOS apps!
Swift
Objective-C
Xcode
Cocoa Touch
iOS Native Dev Kit
SQLite
iOS SDK
Thinking to hire an iOS app developer from Impero IT Services? Follow these 3 simple steps & hire conveniently.
We make hiring totally easy & convenient for our clients. Follow this simple 3 steps procedure to hire iOS app developer in London. Our iOS app developer for hire can be a great asset to your team.
Meet the developer you
want to hire
Onboard talented iOS
app developers
Why choose Impero IT as your partnered iOS app development company?
Steve Jobs once said, "My model for business is The Beatles, They were four guys who kept each other's negative tendencies in check. They balanced each other, and the total was greater than the sum of the parts. That's how I see business: Great things in business are never done by one person, they're done by a team of people."
At Impero IT Services, we certainly follow Steve Jobs. We are a close-knit team of iOS app developers London who strive to make a difference and build a product that helps you run your business in the most efficient way. We have one clear goal — to only create products that become an asset to our clients in every way.
Convenient & flexible hiring models
In-budget app development
Agile & waterfall approach
Dedicated iOS app developers
Innovative, appealing UI/UX designing
Timeline based development
Strict NDA policy
End-to-end support system
3 months of complimentary post-launch services
Industry-standard development practices
4+ years experienced iOS developer
Transparent communication proceedings
I want my iOS app idea to remain safe and secure. Do you sign an NDA?
No project at Impero IT starts without signing an NDA. Before a client even shares their idea with us, we first sign an NDA at Impero. Keeping our client's ideas safe & secure is a priority for everyone at Impero. We even have a strict Non-Disclosure Agreement policy with our developers too. So, be assured that you will have a safe & secure journey throughout.
Which development tech stack do you use for iOS app development?
To develop a native iOS app, we use Apple's developer kit, a complete set of tools comprising Xcode, CloudKit, UIKit, Reality composer & converter, Transporter, and so forth. Our preferred programming languages are Swift & Objective-C to code qualitative, robust native iOS apps.
Will you support us in launching my app on the App Store?
Yes, definitely, without any doubt! We provide end-to-end iOS app development services, covering everything from strategising your project to launching it on the Apple Store. So, be at ease; with Impero, you will get assistance from start to end.
I want to hire iOS app developers for my project. Do you provide flexible hiring models?
Yes, our client's flexibility & convenience is the foremost priority at Impero. We provide four different flexible hiring models — The dedicated hiring model, the Staff augmentation model, the Fixed-rate hiring model, and the Hourly rate hiring model. You can hire iOS app developers based on your requirements on an hourly, weekly, or monthly basis.
How long will it take to develop my iPhone app?
Calculating how long it takes to develop an iPhone app depends upon many factors— the complexity of your iOS app idea, features & functionality, hiring model you have chosen, the scope of your project, etc. To know the exact timeline of your project, connect with our business analysts and get a clear scope of work.
Do you provide both iOS and Android app development?
Yes, we provide both Android iOS development. We have a team of top-notch Android developers who develop world-class apps for AndroidOS. Let us know if you want to release your app both on Android & iOS. Our Android engineers will be happy to help.
Do you also provide iOS app development services for macOS, WatchOS, and tvOS?
Yes, we support our clients in launching their ideas on all Apple platforms. Our iOS app development services range for all Apple devices — Macbook, Apple watch, Apple TV, and iPhone.
Get In Touch!
Connect with us, and let's discuss more about your project. Schedule a call now! Take the first step, and elevate your business to greater heights.
"Impero was instrumental in helping us bring our vision to life. They offered valuable input from start to finish and they were timely. We are grateful to have established a relationship with them & we're sure that will definitely continue. So I highly recommend them for any of your app development needs."

Ellice Zoe
Founder of Divine you app